The Gran Premio Red Bull de España turned out to be a difficult round for Red Bull KTM Tech3's Marco Bezzecchi and Philipp Öttl today.
Following a crash in the opening lap, because he couldn't avoid other riders, who went down in front of him, Italian Moto2 rookie Bezzecchi was brave to restart the shortened 15 laps race, grit his teeth until the end and came out 22nd. Meanwhile German intermediate class newcomer Öttl had to start from P30, lowered his lap time especially towards the end of the encounter to eventually see the chequered flag directly behind his teammate in P23.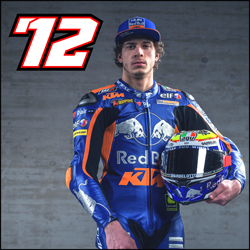 Position: 22nd
Championship: 26th
Points: -
---
"For me, my team this was a disastrous weekend. We tried all, but it was impossible to bring the bike in a good way and then in the race one rider crashed and hit me. I hurt my arm and the bike was completely bent. Finally, I finished the race, but I can definitely not be happy with this."
Position: 23rd
Championship: 29th
Points: -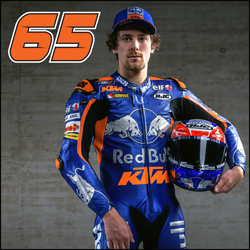 ---
"Overall, I would say it was difficult. The slow corners were ok, but I loose quite a lot of time in the fast corners. My riding is just not fitting together, it seems like everything is not ideal, but now we look forward to the test on Tuesday, where we can try new things and prepare ourselves for the next round."
---
"Another tough weekend for the Red Bull KTM Tech3 Moto2 team here in Jerez, Spain. One more time, Marco got really unlucky. At the first start, he was taken down by another rider. There was nothing he could do, he was just a 100 percent unlucky and unfortunately, he fell down quite heavily and hurt his left arm. Still, he brought the bike back to the pits, which was quite damaged. The team did a great job to make it ready for the second start, but the rider was in pain and couldn't ride like he can. We could see the lap time was up and down from one lap to another, there was a big change from two to three seconds, which is not Marco's style. Anyway, the good news is, physically he should be fine and we have a test on Tuesday. KTM works really hard on the Moto2 project. We trust them and we know they are going to bring many, many parts. So, let's be positive and look at the glass half full. Now Marco can rest on Monday and have a great test on Tuesday. On Philipp's side, I think this Grand Prix was for sure a more positive GP to the one before. He was quite quick, was fighting with his teammate, doing quite interesting lap times. The feeling he has on the bike was improving. We are still out of the points, which is a shame, but altogether – as I said for Marco – we have a test on Tuesday and let's hope both of our guys can take advantage of the track time and the new parts KTM is going to bring, so let's be positive. No points here, hard work next week and then our home Grand Prix, where we might be able to use some of the parts we've been testing here, so carry on pushing, it's only round four and we have two rookies and we knew, it would be difficult, but our motivation is at 120 percent and we are 120 percent behind our two riders!"