Going wide in the first corner, Red Bull KTM Tech3's Philipp Öttl found himself at the end of the field after the first lap, starting to chase the pack. The German rookie made up a few positions, but two long lap penalties made him losing the chance to fight for a better position than 23rd.
Meanwhile, Marco Bezzecchi came off the line well after he secured his second-best Qualifying position yesterday to be in 10th after the first lap and made up a position just a few meters later. While fighting hard for what could have been a repetition of his best race, he unfortunately went down in turn four on the seventh lap.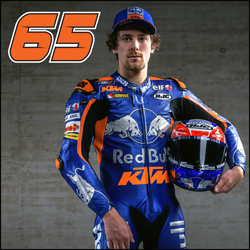 Position: 23th
Championship: 33rd
Points: -
---
"The last three races we made not the worst job in practice, but in the race, it was difficult. If you go straight after the start and you are last and you are not able to pass the slowest rider on this track in four laps and get two long lap penalties, it's impossible. I tried to push, but unfortunately the good work of the whole weekend was destroyed in the first lap. Plus, with the long lap penalty, you lose five seconds per lap, which didn't help. It's quite disappointing. This morning I felt really good and I think if I had this pace in the race, I could have been close to the points. I think we can do better."
Position: DNF
Championship: 24th
Points: 10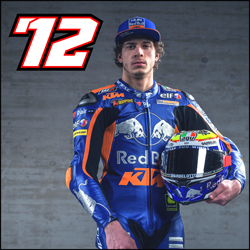 ---
"I was strong, but in the Warm Up lap I felt something strange on the bike. The initial touch of gas was similar to the electrical issue we had in FP2, but I couldn't do anything. So I started the race, but it was obviously causing many struggles on riding, stopping, on the exit of every corner and this also made me crash. It was a strong weekend, I was fast, my rhythm was fast, but the luck was not on our side."
---
"Although Marco couldn't finish his home Grand Prix, I would like to thank him for his great attitude all through the weekend, for his pushing attitude. He did an almost perfect weekend. He was fast in all practices, he got a good grid position, he started well and he was pushing. He was in a group that could have been a top 10, plus he was the fastest and best KTM rider at that stage and clearly, we knew that was a bit on the edge. Unfortunately, it happened what happened. Marco wanted to shine for his home GP, which he did until the crash. He has nothing to lose in the championship, as unluckily we are very far down this year, so it was a question of shine or crash and he went down, but I can't say anything bad out of this. I would like to thank him for his dedication and the smile he got on his face all through the weekend. It's not the end we wanted, but I understand. Again: Good job Marco this weekend at home. Hopefully, you have another chance to do well next week in Aragon. Philipp is working hard, he is pushing. He is not where he would like to be, but still I'm happy about the way he works and the way he rides. Moto2 is a very, very tough class, we know and I think some people don't realize how tough the category is. I think Philipp is a very good rider, at the moment he is not on the level to be in front in Moto2, but I really think he is doing a good job and is improving and I really hope and wish he can get a decent job next year, because he is a rider, that is pleasing us. So, if I would have a message to everybody, it is: Get in touch with Philipp, because he will be making you happy!"